Prof. Aiping Lu, Dean of the School of Chinese Medicine (SCM) led a delegation from China to the 4th Plenary Meeting of the International Organisation for Standardisation Technical Committee of Chinese Medicine (ISO / TC 249) in Durban, South Africa. As the leader of Chinese delegation, Prof. Lu delivered a speech entitled 'Chinese medicine and standardisation' at the meeting.
Prof. Lu, who has been serving as the leader of the Chinese delegation since the establishment of ISO / TC 249 in 2009, pointed out that the World Health Organisation and ISO had launched projects related to the standardisation of Chinese medicine and set up committees for enhancing the global development of Chinese medicine. He said that SCM would continue to strengthen its links with these organisations and actively participate in the establishment of international standards for Chinese medicine, thereby further promoting the internationalisation and standardisation of Chinese medicine.
The University was privileged to be involved in ISO / TC 249's establishment of international standards for Chinese medicine through the pioneering work done by Prof. Lu. SCM's participation would enable to contribute to the improvement of the quality and safety of Chinese medicine as well as the standardisation and internationalisation of this increasingly popular field, and bring HKBU to the world stage in Chinese medicine.
ISO / TC 249 is an authority on establishing international standards for trading in Chinese medicines. It is responsible for setting up international standards for Chinese herbs, Chinese medicine products, equipment and informatics, which have a major impact on Chinese medical service, Chinese medicine products and other related industries.
ISO / TC 249 meetings are held in different regions each year. This year's meeting, organised by the South African Bureau of Standards, was attended by more than 170 scholars, government officials and representatives of related industries from 17 member countries, including China, Australia, Canada, Germany, Japan and Korea.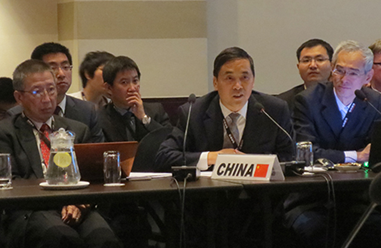 Prof. Aiping Lu (centre, front row) at the ISO / TC 249 plenary meeting